This is an initial presentation of a logo option to show direction and intention; this logo will be further refined as the project progresses.
Full colour logo

Blue is the colour associated with knowledge, and clarity
Light blue-grey is calm and neutral


---
Objective:
Strong, friendly, relaxed, professional, gender inclusive
Women are most commonly the decision-makers when it comes to family health care; in fact, in the United States research shows that they make 80% of health care decisions for their family. An even greater percentage select their family doctor (86%) and they are also more commonly involved in care of aging parents. They are the primary users of medical websites.

We want to insure that men feel welcome at the same time as we clearly speak to the female audience. Recently there has been a clear shift in what design defines as gender neutral as well as what is considered feminine. Strong, hard lines and sharp edges of 'old school' gender neutral (traditionally masculine) are now pared with more curved and softer forms to create a design style which is truly inclusive.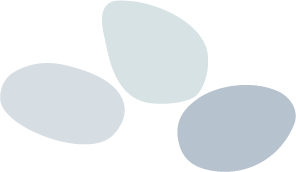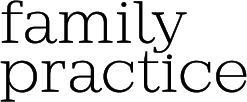 The pebbles to represent the 3 stages of life – youth, middle age and old age.
A strong but curved 'K' which is more gender neutral
KITS – all caps and sans-serif to be proper, strong and professional
lowercase 'family practice' makes it welcoming, relaxed and friendly
---

---