Who is Kits Family Practice?
Kitsilano Family Practice provides long-term, relationship-based care in a safe and inclusive environment; nurturing informed and collaborative decision-making for improved outcomes.
Word Cloud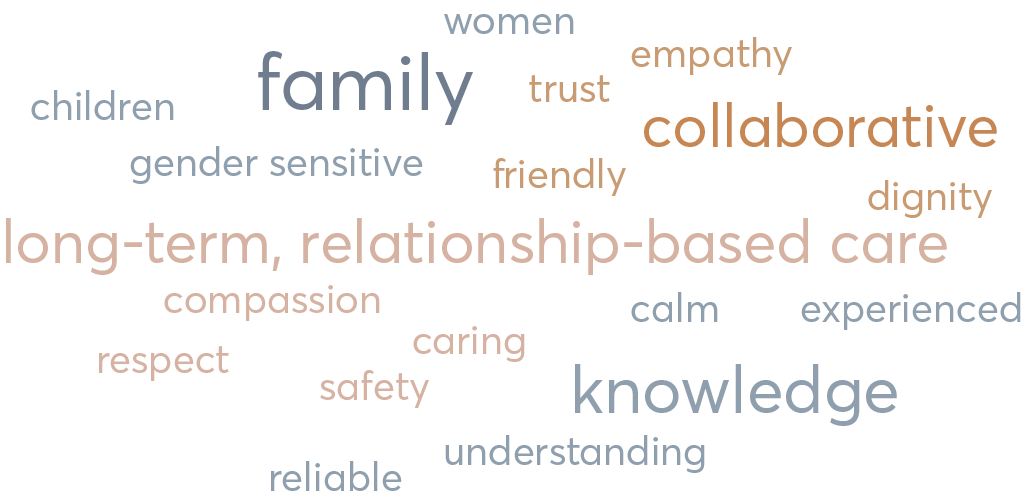 ---
Key Brand Words
Here we refine the word cloud above to limit our brand to 5-6 key words which convey the essence of the brand. These words guide the development of the logo, colour palette, site structure (IA – information architecture), user experience (UX), tone and language (site content).
Empathetic
Respectful
Inclusive
Caring
Calm
Experienced/Competent
Existing client considerations
Site Accessibility:
Elderly clients make up a fair proportion of the existing client base so considerations must be made for their particular needs. Accessibility must be supported and account for some visual and/or cognitive impairment. These same considerations will also make the site more accessible to users experiencing distress or mental health concerns.
The following best practice guidelines for accessibility will be implemented:
high contrast text
avoiding use of text over images
simple, clear language
focused directives (clear messages of where to go on the site)
text contained in short lines (easier to read than text which fills the screen)
Desired client engagement – Complete family care
Women & Children:
From the survey it appears that adults and young families are the focus for future growthand required to balance out a disproportionate numbers of elderly patients. As women make over 80% of household health care decisions they are the primary audience of your website.
Men, trans-gender clients would be your secondary audience.
Elderly clients would be your existing audience.
Younger women and mothers generally face with time constraints which can be an obstacle to engagement or completion of tasks. Most are very web-savvy and spend a fair portion of their day on websites or apps in both their work and personal lives. Most applications they use are highly designed and follow current trends; trend and design greatly influence their impression of business/service.
This age group is trained on self-serve applications and tend to prefer to engage in this way.
The following will improve user experience for this age group:
easy to self-serve – prominent booking, patient portal
real images or video – avoidance of obvious stock imagery
simple interface
text which gets to the point quickly
empowered language
images used to break up the text or reduce the amount of text required (infographics)
consistent values
inclusivity
Similar practices
Below are 2 Vancouver practices with good websites.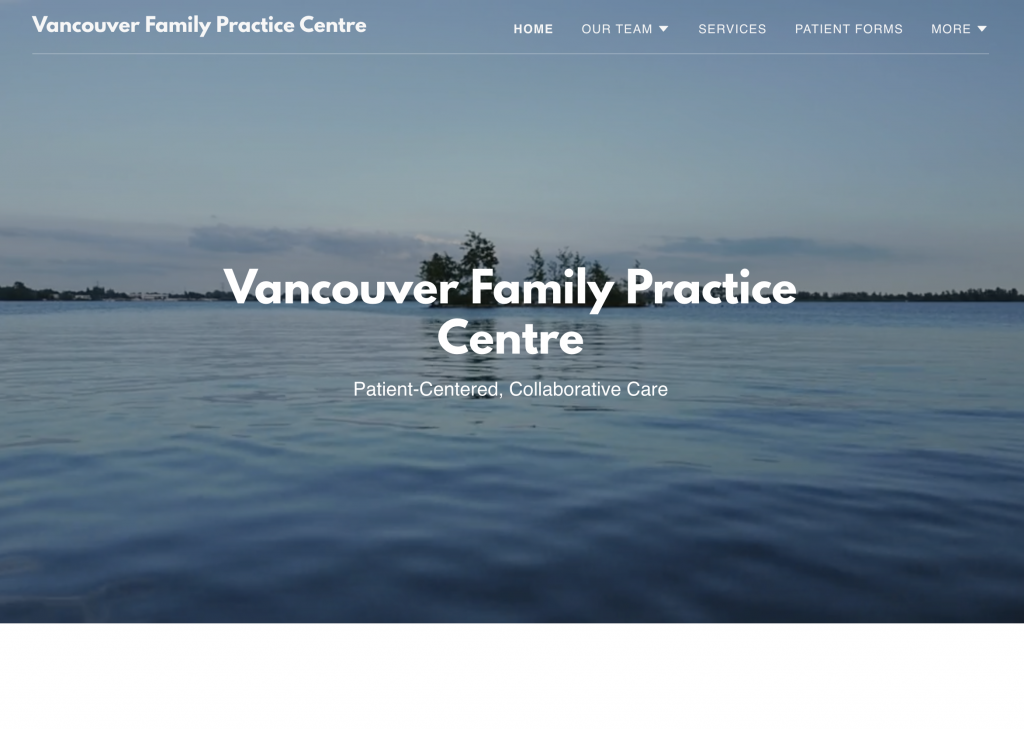 Vancouver Family Practice Centre
https://vancouverfamilypractice.ca/
Clean, simple interface
Clear, concise summary of services
Focused directives – prioritizing the patient portal and self-management
Calm atmosphere – video of water
Very accessible interface (high contrast, large text, simple writing)
George Street Family Practice
Clean, simple interface
Clear, concise summary of services
Simple directives
Follows some best practices for accessibility